Reizen in Frankrijk
---
Mappy.com
Road and travel guide in Europe and France, maps of Paris, London and other big cities, access maps, tourist and practical information. Very handy to calculate your driving costs.
Google Maps
Handy visual tool to calculate your itinerary from A to B, and from B to C and so on. Printing and sending it to somebody is easy.
Avis Car Rental - Hire a car in Europe
Rent a car from Avis. Car rentals easy to book online at Avis.com.

Train and High Speed Train Links
---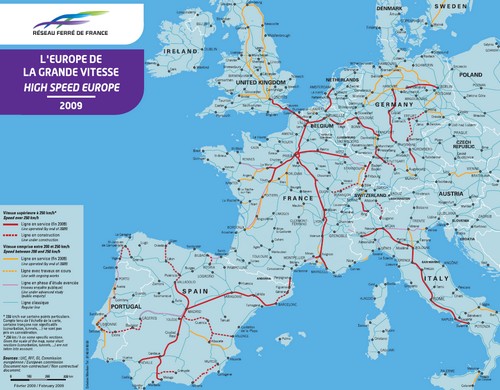 Find your map of the trains in every french region.
Voyages-sncf.com : train tickets
Information and online Booking. Best Book in French version. Count 10 days to receive your tickets home or save money by printing it directly. Tickets printable at every French station in so called "Bornes". Take care for the wright spelling of station names. Often you can choose your own seats. Not very user friendly, a little slow, but very interesting prices to be discovered, especially when booked early. Lastminute travels available every tuesday. Cheap prices often not to be modified, nor money back.

Eurostar
Eurostar journey times from the UK to France and Belgium are reduced. High speed trains, travelling at speeds of up to 300km/h, will whisk travellers from London to Paris in just 2H 15 minutes, and to Brussels in 1H 51 minutes.

TGV High Speed Train
Discover France "en TGV". Informations about the TGV network, services, prices, timetables & station maps.

Flights Links
---
With this link you see all airports in France.
EasyJet.com
Book cheap flights online with easyJet. Find low cost flights to Europe, find a flight offer that fits your budget.

Ryanair.com
The Low Fares Airline, cheap flights from Europe, UK and Ireland. Discount airline tickets.

Dijon airport will have a low cost airline between Southampton-Dijon.
Channel Crossing and Waterway Links
---
Ferrycheap
Ferrycheap.com delivers fares from all of the UK's major ports. Served by the UK's most competitive ferry operators: Norfolkline (Dover - Dunkerque), P&O Ferries (Portsmouth - Bilbao, Dover - Calais, Hull - Europoort, Hull - Zeebrugge) and Seafrance (Dover - Calais). Eurotunnel operates from Folkestone to Calais. This service speeds you across to France in less than 40 minutes.

Waterways of France
As a public corporation answerable to the Ministry for infrastructure, housing, transport, tourism and the sea, Voies Navigables France acts in close cooperation with institutional partners and waterway users.
---
Fubicy.org
Fédération française des Usagers de la Bicyclette: Bike+train, practical guide by the French Federation of Bicycle Users.


Useful Links
France Tourism The Main tourist website of France: Prepare your travel in France
Hotel in France Book your hotel online in France. Easy to use.
Reizen in Frankrijk door France4U Makelaars